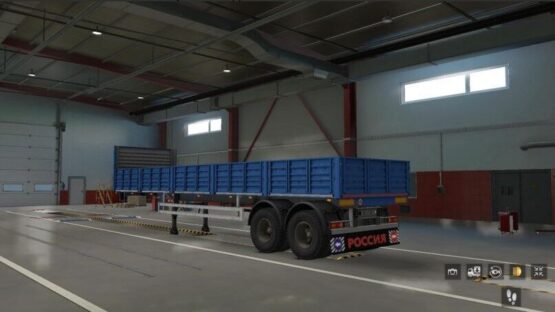 Flatbed trailer SZAP-9340 in the property
Autonomous:
Painted
Chassis with frame adjusted to KAMAZ or double wheels
There is a separate slot immediately for purchase
Own trailer name
Cargoes under the trailer Onboard SZAP-9340
Own wheels and wheels (there is a choice)
7 mudguards + standard
Small tuning
Cable support
CHANGES
Converted the entire 3D model of the trailer. (SCS Blender Tools).
Fixed multiple bugs and crashes from the game.
The log in the game is clean up to 100% (percent).
Author: Kish88.
Author of adaptation and bug fixes: Master_Yoda.
Conversion author: Master_Yoda.
Adaptation 1.45 AJEHA
Credits:
AJEHA , Master_Yoda.
DOWNLOAD 46 MB