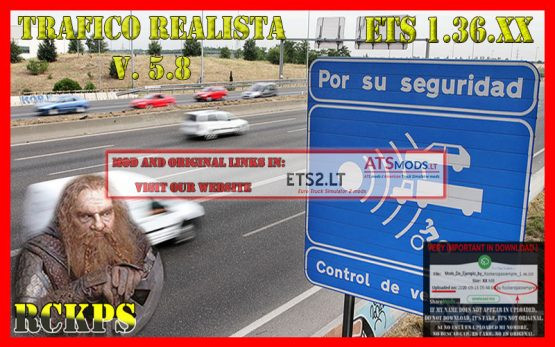 Mod update
DO NOT UPLOAD THE MOD TO ANOTHER SERVER. PLEASE, RESPECT THE ORIGINAL LINK OF THE AUTHOR.
Note: If you have a very high random events bar,
absurd traffic jams can occur in the city. It is not for the mod.
Inside the Winrar file, 2 versions. Normal and No Extras. Extract and use the one you want.
Description:
– Full mod instructions in Spanish, English, German, Russian and Polish.
– Compatible with Drive Safely Sound Fixes Pack.
– If you use Sound Fixes Pack, you have to put Sound Fixes Pack, on top of this mod.
– Place this mod, on top of maps or mods of AI traffic.
– 2 versions of the mod. One includes vehicle sound (With Extras),
and the other version (NO EXTRAS), does not include these sounds.
– The mod, contains the base game traffic + added traffic with its own sounds,
(ONLY IN VERSION WITH EXTRAS).
– Compatible with all maps and all dlc's of the game.
– Compatible with all IA traffic packs-mods.
Changes in V 5.8:
Restructuring of the complete mod.
File editing for full compatibility with the Sound Fixes Pack mod of Drive Safely.
File update for stable version 1.36.
Edited traffic light times of the new Road To The Black Sea area.
Edited traffic rules and the amount of complete traffic.
New vehicles added: Renault Scenic and Bmw e66.
Sound volume reduction for the Wolverine and Quad Kvadro motor group with With Extras version.
– Complete list of IA Vehicles with sound added to the mod (NORMAL VERSION).
– The same vehicles for version (NO EXTRAS), not including own sound.
Audi A6, Bmw 5, Bmw e66 Citroen BX, Citroen C3, Citroen C4, Citroen 2Cv, Citroen Gs, Dennis Dagger Bomberos, Dumont 47,
Fiat Ducato, Fiat Panda, Mercedes Econic Recogida de Basura, Foxom Bomberos, Foxom Recogida de Basura, Mercedes GLB 2019, Mazda CX3, Neoplán Tourliner, Opel Astra, Quad Kvadro,
Renault Clio, Renault Megane, Renault 9, Renault Scenic,
Renault 11, Renault 18,Taxi Ford Crown Victoria, Toyota Land Cruiser, Tatra T815 Bomberos, Tractor, Volkswagen Transporter, Volkswagen Beetle 63, Volkswagen Crafter Ambulance, Volkswagen Golf, Volvo XC70, Volvo XC70 con Skin Race, Yamaha Wolverine X2.
Daf XF, Daf XF Euro 6, Iveco Hiway, Ivecho Stralis, kamaz 43118, Man TGX,
Mercedes Actros, Mercedes New Actros, Mitsubishi Fuso (3 Chasis distintos),
Renault Magnum, Renault Premium, Scania R, Scania R y S 2016,
Scania Streamline, Volvo FH 2009, Volvo FH 2012, Zil 4331.
Busscar Panoramico dd 6×2, Marco Polo Paradiso G6 1800 6×2,
Marco Polo 1800 8×4, Ikarus 255, Temsa Opalín.
WinRar file weight: 211.5 Mb.
Credits:
Credits Sounds: Cipinho, kriechbaum, Drive Safely. Models: Scs, AlexGold, Jazzycat, pete379jp. Testers: Salsambo, TurcoTron Author: Rockeropasiempre
DOWNLOAD 211 MB