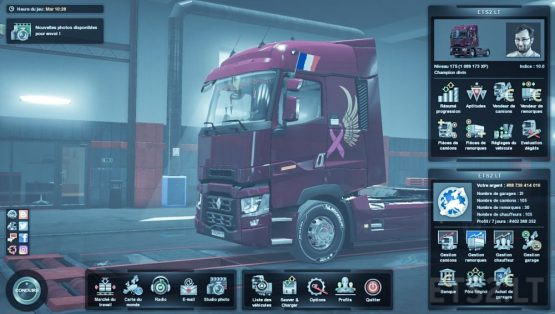 Game Profile for ETS2 V1.36.1.41 V 2
The game profile is suitable for all players (beginners, testers of modifications and multiplayer players) and for those who for some reason could not create their own personal game profile.
The profile was created without the use of modifications.
Profile supports all DLC ETS2.
Preservation is present:
-Profile name ETS2.LT;
-Garage St. Petersburg;
-Legend level;
-Garages 21;
-Trucks and Drivers 105;
-Trailers 30.
In V 2:
– Corsica island with DLC Vive la France;;
– Detours;
– Informing routes in GPS navigation;
– New cars in traffic;
– Drivers – Trucks – Trailers are visible on the dispatcher map;
– Full support DirectX 11;
– Entering Chinese and other non-Latin characters (TME);
– Improved smoothing (SMAA wires);
– For the French narrowly speaking players, start on the island of Corsica, Ajaccio.
The profile is suitable for Russian-speaking players, English-speaking players and French narrowly speaking players. Appropriate game settings.
Installation: Documents – ETS2 – profiles.
Have a nice game!
Credits:
Anas
DOWNLOAD 6 MB