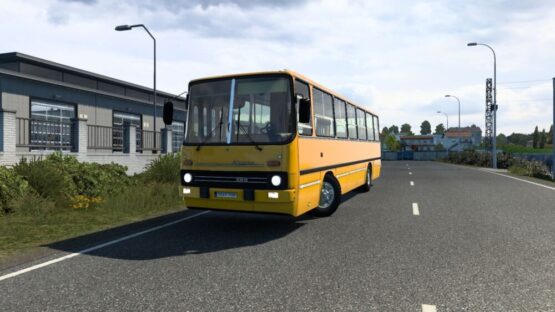 Ikarus 260 is a bus of the Hungarian company Ikarus, produced in 1972-2002 for urban and suburban routes. The development of the first prototypes began along with the Ikarus 250 in 1967. In 1972, the conveyor (mass) production of buses of the 200th series began. Over 30 years of production, more than 30 modifications of ikarus 260 have been made, created for different countries. Buses mainly differed in body color and interior layout. The bus body had a frameless truss, welded from tubular profiles, mostly with a closed cross section, which made it possible to assemble bodies of different lengths using the same technology and vary the number of doors for passengers and seats in the cabin, while completely unifying the main units.
The first buses that came off the assembly line in 1972 were equipped with a Raba D2156 engine with a capacity of 192 horsepower; automatic transmission or mechanical (depending on customer requirements). The rear drive axle had a short gear ratio to ensure good traction for a full bus with a curb weight of 9t and a loaded weight of 16-17t. First of all, the bus was developed as a city bus, but later suburban modifications were made. The capacity of the bus is up to 100+ people, of which 22 are seated.
The main characteristics of the bus:
Own dealer – SovTransBus!
Your sounds;
6 options for rear gearboxes;
Various transmission options;
A set of engines of various capacities;
Real and custom painting;
Interior options;
Has its own little tuning.
AuthorFashion: SovTransBus
Authors of the 3D model: Nikita Lipunov, Anton Kylosov
Conversion authors: Alexander Kodola (mercuriat),
Evgeny Lunev (Snare85) – sound, physics, scripts.
Alexander Kodola (mercuriat) – 3d model, graphics editor, animation.
Sergey Zubarev – updating file data.
OtterMage, HVN731 – sound samples, information.
Credits:
SovTransBus
DOWNLOAD 279 MB