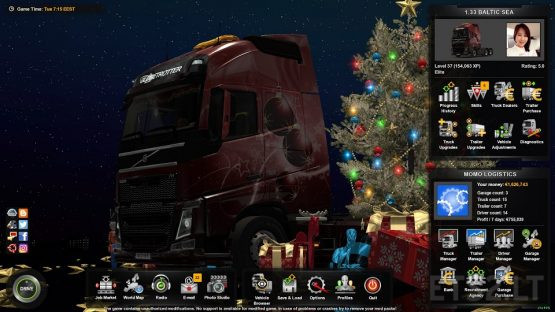 This is a Christmas present from me to all ETS2 players.
—————————
Let's bring Christmas to ETS2!
What kind of Christmas without Grime's Frosty Winter mod and Christmas songs?
This mod replaces the main menu songs with classic Christmas songs. There are 4 tracks in total:
1. I'll be home for Christmas – Dolly Parton
2. Winter Wonderland – Dean Martin
3. Jingle Bells – Children
4. Rudolph Red Nose – Dean Martin
** It's normal that you will not hear the new songs when you arrive at the menu for the first time. The new songs will come after you have entered into a truck and return to the menu. **
OPTIONAL:
9 Christmas radio stations (handpicked & tested)
—————————
If you want to give me a Christmas present:
For Steam Trading Cards:
https://steamcommunity.com/tradeoffer/new/?partner=47657743&token=OoKGwajp
My Paypal donation link:
https://www.paypal.me/aaticha
——————————
MERRY CHRISTMAS & HAPPY NEW YEAR !
Credits:
Momo
DOWNLOAD 9 MB